New four storey gable wall built without wall ties is rapidly secured avoiding collapse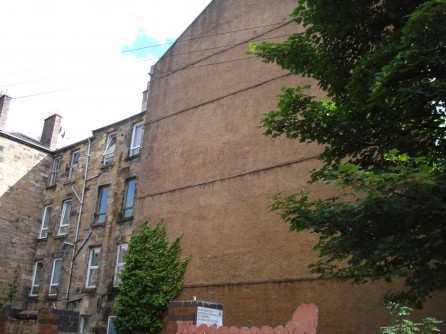 When fire damaged a Glasgow tenement so badly it had to be demolished a new gable end wall was built on the neighbouring property to create a new end of terrace. However, a subsequent survey discovered that there were no ties connecting the inner and outer leaves and consequently there was no lateral restraint on the four storey gable end wall. An approved Helifix Structural repair specialist, was called in to rapidly secure the outer leaf and prevent any possible collapse.
The wall had been constructed with a 102mm thick sandstone inner leaf, a 400mm cavity and a 215mm thick external leaf. Consequently, due to its size, weight and thickness it was decided to use grouted stainless steel CemTies to provide secure lateral restraint rather than replacement wall ties.
The installation was undertaken by Clarke Contracts who inserted the 10mm diameter x 670mm long CemTies, simultaneously with the HeliBond grout, into clearance holes across the complete gable end at close proximity centres. This slightly unusual means of securing the thick gable end wall provided and rapid cost-effective solution to the problem and was backed by Helifix's professional indemnity insurance.
TSS are the sole agent for all Helifix products in Jersey.  To request an information pack please email us at infopack@tssjersey.co.uk or contact us on 01534 514904.