Social housing gets strong support from Helifix Micro-Piles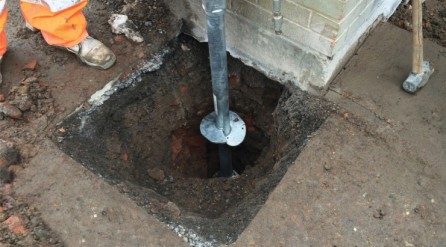 A rapid, economical and non-disruptive solution was required when progressive subsidence was identified at 19 housing association properties in Stockport.
Built in the 1970s, these two storey terraced properties each have a single storey porch and bin store connected to the front elevation. Suspected to have been added at a later date, they had been constructed on lightweight concrete slabs that sat directly onto 3 metres of 'made' ground without any suitable form of foundation. As a result the porches were subsiding, which was causing them to rotate and separate from the main structure of the houses.
The solution
The use of Helifix micro-piles were specified by the client as the most suitable system to stabilise the porches with minimal disruption to the tenants.
Ground investigation of the site had shown that there was a load bearing strata at approximately 4 metres beneath the made ground.
A small hole was dug to expose each corner of the slab before the mini-piles were driven into the ground down to the supporting bedrock. Four piles per porch were installed
Special porch brackets were fitted to the piles, inserted under the slabs and jacked up to take the design load of 70kN. These lightweight brackets meant the pile heads could be terminated below the level of the shallow slabs and yet still remain hidden.
The works were completed quickly and efficiently, using lightweight hand-held equipment and causing only minor disturbance to the occupants as all work was undertaken externally. The porches are fully stabilised and the Helifix micro-pile system provided a rapid and reliable solution.
TSS are the sole agent for all Helifix products in Jersey.  To request an information pack please email us at infopack@tssjersey.co.uk or contact us on 01534 514904.